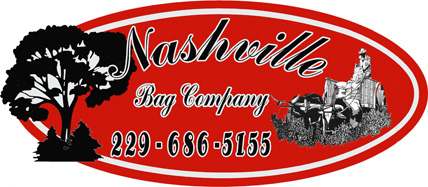 Located in the heart of Southern Georgia, Nashville Bag Company is a family-owned bag distributor and manufacturer.
Some people look straight to the low bid, but poet and author John Ruskin said it best when he stated: "There is hardly anything in the world that some men cannot make a little worse and sell a little cheaper, and the people who consider price only, are this man's lawful prey."
Nashville Bag Company strives to offer you the best quality products at fair and honest prices. Give us a call, or use the contact page to inquire further. We are always pleased to hear from existing and new customers.
Our specialty products include:
Woven poly
Paper
Burlap bags
Cotton bale wrap
Tie wires
Sample bags
Net covers
Module covers
Truck covers
Sandbags
Module Marking Ink